[ad_1]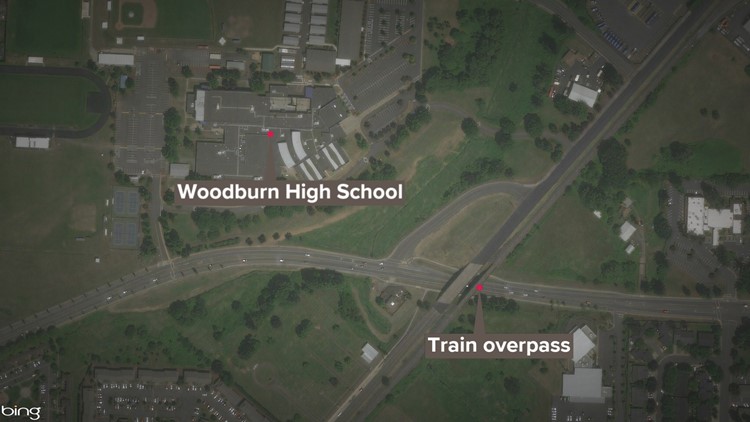 Woodburn police said a 17-year-old junior was walking on the railroad tracks when he was hit from behind by a northbound train.
WOODBURN, Ore. — Police in Woodburn said that a student of Woodburn High School was struck and killed by a train on Friday morning.
A 17-year-old junior was walking northbound on the railroad tracks along the Front Street overpass when he was hit from behind by a train that was also heading northbound, Woodburn police said.
First responders arrived minutes after, but the high school student was pronounced dead at the scene.
The railroad tracks through Woodburn run parallel to North Front Street and have a separate overpass that crosses Highway 214. Both overpasses are within a half-mile of Woodburn High School, about a 10-minute walk. They are also within sight of the Woodburn Police Department.
The response closed down all intersections from the Front Street overpass to Young Street from 8 a.m. until 11 a.m.
Police said that the Woodburn School District's Crisis Response Team is working with students in staff in need of assistance or support.
After an initial message posted on social media around 11 a.m., Woodburn School District Superintendent Dr. Joe Morelock issued full statement shortly after 1:45 p.m. to address families and the community regarding Friday's tragedy:
"We are deeply saddened to share news of the death of an 11th-grade student who attended Woodburn High School. On Friday, December 2nd at approximately 8 a.m., a student was walking northbound on the railroad tracks along the Front Street overpass when they were struck from behind by a northbound train. We will not be sharing additional details about the student at this time. 
"This is a terrible tragedy, and the district's highest priority is the support of our school community, including the student's family, during this tremendously sad time. As of Friday morning, students at Woodburn High School are being supported by our Crisis Response Team in support rooms. Teachers have shared this information with their students and students are being encouraged to go to the Support Room for help. We will continue to offer resources and support in the weeks and months to come as our students process and grieve.
"Over the next several days you may want to make yourself available to your child to talk about what has happened. When a young person dies, it touches all of us with grief, anger and questions to which there simply are not answers. Children process events and emotions differently than adults; likewise, elementary students will have different needs than high school students.
"You may want to discuss what your family can do to show your concern and sympathy for the family of our student as well as decide if your child should attend the wake or funeral. A wide range of emotions might be expected and changes in eating and sleeping habits could occur. Changes that do not seem to improve over time should be brought to the attention of the school counselor or mental health professional. Additional resources will follow at the end of this message.
"Our hearts are broken today, and we are here for your child, your family and the entire Woodburn School District community."
The district told KGW that classes are continuing as normal on Friday.
This is a developing story and will be updated with more details as they emerge.


[ad_2]

Source link