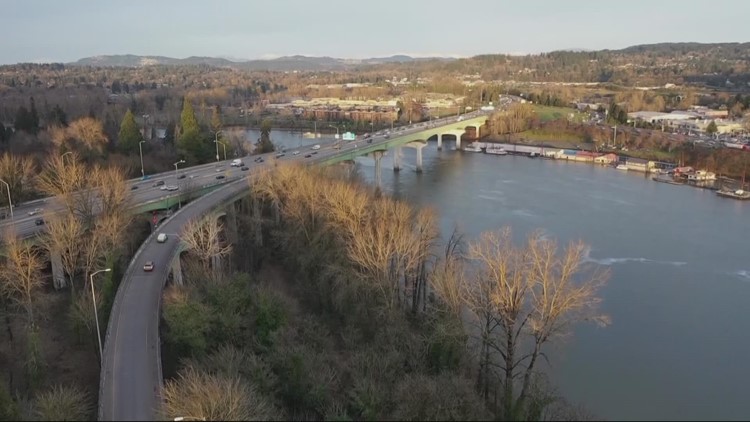 Right now ODOT is considering variable tolling that ranges from $.50 during off hours and $2.20 at peak congestion — per toll bridge you cross.
For the uninitiated, tolling will mean that drivers need to pay to use certain bridges or roadways. Tolls are more common on the East Coast, though they're also used in places like Seattle and Austin, Texas.
According to ODOT's vision of the program in Portland, drivers would carry a transponder inside of their cars, which would flag tolling sensors overhead when driving through the area. No one would be stopping at a booth.
For drivers that don't have a transponder, the system would read their license plate numbers and send a bill to the corresponding address. In Seattle, at least, it's a lot more expensive to pay this way.
Right now there are two tolling projects taking shape, one near Oregon City on I-205, as well as a separate one that includes I-5 and the parts of I-205 north of Oregon City.
ODOT officials say that the purpose of the tolls near Oregon City are to pay for an additional lane on the Abernethy Bridge and the 7-mile section of I-205 that narrows down to two lanes each way. The tolls will also be put toward seismic upgrades on nine bridges in the area.
There's also a punitive reason behind the tolls. They'll include "congestion pricing," which means the tolls will be highest at the times of day with the most traffic in hopes of discouraging people from driving these routes — either by getting them to travel at a different time or take public transit.
As the word gets out, some people are shocked at the prices under discussion for these tolls. In late August, the ODOT toll policy manager spoke at a Yamhill County Board of Commissioner meeting.
"I am able to share for that 205 section we are studying $.50 to $.60 tolls for those off-peak hours and overnight," the ODOT representative said. "And then for the peak hours it would be $2 per bridge. So $4 dollars total, right around there … $4-5. But I agree with you, that's concerning not being able to have that information to more robustly share."
"So, $2 per trip — so if you're a commuter it would be four dollars a day?" asked Lindsay Berschauer, commission chair.
"Ah, actually there's two — it would be tolled on two bridges, the Abernethy and Tualatin bridge for just that 205 section, so it would be $4 if you went all the way through it," the ODOT rep answered. "So $8 a day, if you are travelling at those peak hours; 7 to 9 a.m., 4 to 6 p.m."
"So that's almost $250 a month if you are a commuter — per driver," Berschauer said flatly.
While it's actually closer to $160 per month, there's no question that this represents a considerable expense for commuters who travel at the busiest times of day, which many do — that's why it's busy.
Speaking to KGW on Wednesday, Berschauer said that there's a growing effort to push back against ODOT's tolling plans.
"They were pretty clear this is an effort to reduce congestion, but get you out of your car is essentially what they were saying — this is an effort to get folks off the road," she said. "For most people, that's just not possible. We have to be able to get to work and school, and like I said I'm worried about the impact to folks who are not wealthy, who cannot pay an extra $200 to $250 a month in tolling just to get to work and back."
ODOT has said that it's still looking at the specific tolling prices and plans to create a discount for families making up to about 200% of the federal poverty level. For a family of four, that's an income of roughly $55,000 per year.
Tolling plans on the south end for the Abernethy and Tualatin bridges are furthest along, but ODOT fully intends to collect tolls at other, to-be-determined locations along both I-5 and I-205.
For commuters who have to travel over both the Abernethy and Tualatin bridges in order to get to work and back every day — perhaps during peak hours, depending on their schedule, something that most people don't get to choose — $8 or more can certainly seem like a bit much.
"It depends on the time of day of travel," said Mandy Putney, tolling project manager for ODOT. "There's only one hour of the day that we're modeling where there'd be that higher rate, other times there's a much lower rate. And again if folks can travel at a different time of day or take a different route or also a different mode, like by transit, there could be options there."
The first tolls will appear on that section of I-205 near Oregon City and ODOT said it will start about two years from now. We'll learn the exact prices about six months before that; late spring or early summer of 2024.