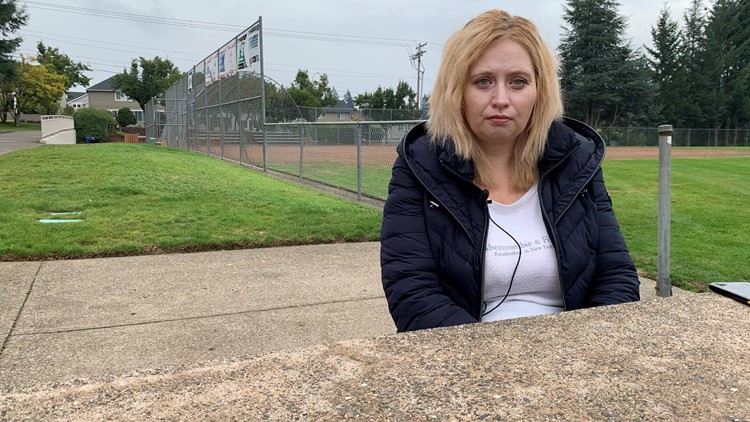 The suspect was arraigned on rape charges Wednesday, seven years after the attack occurred, according to police. They believe there may be more victims.
PORTLAND, Ore. — Rape survivor Maryann Stott said getting to a good place in life has taken a lot of work and overwhelming support from family and friends.
"Today I'm in, I'd think, a much better place mentally than I was all those years ago," Stott said.
Stott, 37, is referring to what happened in 2015 at a Downtown Portland Rite Aid that has since closed. Stott said she was looking around the store when a loss prevention officer accused her of shoplifting.
"He's like, 'I saw you take that soda and put it in your bag,' or something like that," Stott said. "And I'm like, 'What, it's right here.'"
Stott said the guard, later identified as Daniel Cassinelli, escorted her to a secluded room where her life changed forever. Detectives said Cassinelli raped Stott.
"A lot of people might think, 'Why didn't she just fight him off or yell or leave?'" Stott said.
Investigators said Cassinelli used his position of authority and threats of reporting the alleged shoplifting to keep Stott in the room. She eventually got away and went directly to a hospital where she was given a rape kit.
"I was really upset and numb, like in awe, did this really happen?" Stott said.
Stott filed a police report but authorities said after the initial investigation the case went cold. It was not until this week, seven years after the alleged crime, that officers arrested Cassinelli.
"I feel a lot of emotions," Stott said. "I'm really overwhelmed but at the same time I can't believe it's happening."
Detectives said they believe there could be more victims and that is why Stott, who considers herself a survivor, is speaking out. She is hoping her story encourages others to come forward.
"These monsters don't belong on the street," she said.
Cassinelli was arraigned Wednesday on charges of rape, sodomy, and sexual assault. He is due back in court in December.
Cassinelli worked as a loss prevention officer at multiple stores in the Portland area during and after 2015.
The police and DA's office are asking anyone with information about Cassinelli to contact Portland Police Bureau Detective Brendan McGuire at 503-823-0869 or Brendan.McGuire@police.portlandoregon.gov.
Resources
If you or someone you know is a victim or survivor of sexual assault, you can contact a shelter or rape crisis center near you or call the National Sexual Assault Hotline at 800-656-HOPE. Click here to learn more or visit 211info.org for other resources.