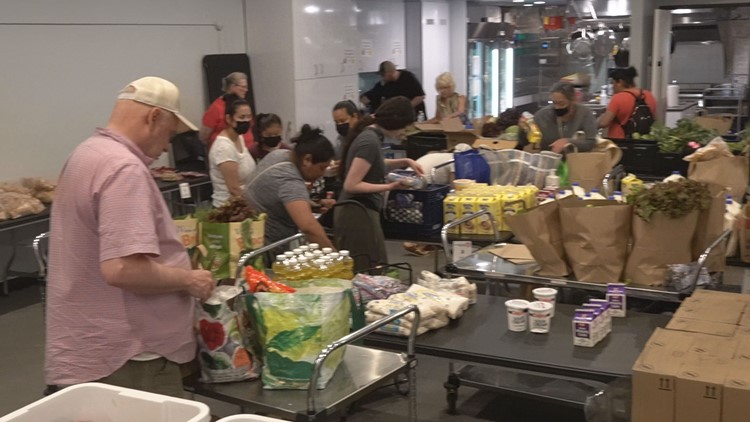 A nonprofit food bank and community center in Canby just got a boost from the M.J. Murdock Charitable Trust. A $600,000 grant will go to help expand its facilities.
CANBY, Oregon — A nonprofit that helps families live better lives in Canby is getting a big boost to grow its mission. That funding in the form of a $600,000 grant for The Canby Center is coming from the Vancouver-based M.J. Murdock Charitable Trust, based in Vancouver.
For 14 years, the Canby Center has been delivering on its faith-based mission to renew dignity and inspire learning for families and youth. From providing food, to offering classes teaching everything from sewing to managing finances and more.

"We encourage people in their dignity, we strengthen their dignity through a wide variety of services; sometimes that's dental care or it can be making sure someone gets a hot lunch like is being provided behind me right now," said executive director Ray Keen.  
In fact, The Canby Center has provided more than 19,000 services so far this year alone.
A service that's much needed, at least one in ten Canby residents live at or below the poverty line. Keene said the pandemic and now inflation have made things much worse.

"That was incredible to watch, the needs during the pandemic actually moved from where we were to quadruple, four and five time over our normal," said Keen.  
Even without the pandemic, the needs of the working poor have grown. The Canby Center has run out of space. Now, in the middle of a multi-million dollar capitol campaign to fix that, the M.J. Murdock Charitable Trust came through this month with a $600,000 grant.

"There's really no way we could be taking this step without the help of M.J. Murdock Charitable Trust they have been phenomenal. What an incredible partner in the community and not just for our organization but many, many organizations," said Keen.  
For The Canby Center, the Murdock grant will help transform the property from 5000 square feet to 16,000 square feet of building space. More than quadrupling food storage space, adding lots of new classrooms and other features aimed at helping people grow their lives, together.

"A key aspect of what we do in terms of poverty alleviation is through this dimension of strengthening relations," said Keen.
A key aspect of that includes giving back. All food bank participants here are required to volunteer themselves at least one hour per family per month. In addition to taking a required financial class things most state welfare programs don't do.
Keen says their mission is working.
"It's really incredible to be a part of actually, but we get to see many miracles every day through the lives of the people who come here."
The success at The Canby Center is getting support from those wanting to see more of it.
The grant goes to help the capitol campaign that's so far raised 6.1 of the 8.25-million dollars needed. The nonprofit plans to break ground next March and have the new Canby Center open in January of 2024. Click here to learn how you can help.
Since 1975 the M.J. Murdock Charitable Trust has awarded more than $1-billion in grants to nonprofits, aimed at improving lives and communities in the Pacific Northwest.