[ad_1]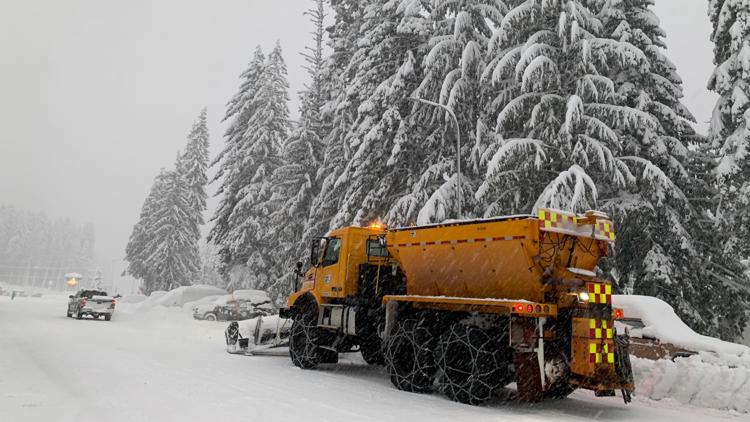 In Portland, heavy rain is expected throughout the day Wednesday, with a chance of scattered dustings of snow Wednesday night into Thursday morning.
There's a winter storm warning for the Cascades through 10 p.m. Wednesday as an ongoing snowstorm could drop as much as two feet of snow throughout the day. Timberline has reported 18 inches of new snow and Mt. Hood Meadows 17 inches since the storm started Tuesday.
The Coast Range is under a winter weather advisory Wednesday for a mix of rain and snow showers near and above 1,000 feet.
Closer to Portland, a strong cold front pushed through the I-5 corridor early Wednesday morning, bringing gusty winds as strong as 40 mph and steady rain. The winds are expected to ease this morning to typical breezes of 10-20 mph. The steady rain will break into showers, heavy at times, throughout the day. Hill said valley rain totals may reach an inch.
The snow level is at 3,000 feet Wednesday morning but will lower this afternoon to 2,000 and perhaps as low as 1,500 feet.
"Here in the I-5 corridor, scattered dustings of snow continue to be a possibility later Wednesday night and Thursday morning," Hill said.
Hill said there may be a wintry mix during the day on Thursday. Highs around 40 degrees on Thursday should melt any dustings of snow.
The rain and snow is expected to continue until Sunday.
School closures
Multiple school districts in the Gorge have closed or delayed the start of classes Wednesday. In Oregon, all schools in the Hood River County School District (3,761) are closed and in Southwest Washington, all schools in the White Salmon, Stevenson-Carson, Glenwood, Mill A and Skamania 2 school districts are closed. Other districts have delayed the start of school two hours.
Power outages
There are power outages spread across the Portland metro area, with PGE reporting Wednesday morning more than 5,000 customers have lost power, with a large clusters in north Portland. Pacific Power reports about 200 customers are without power.
Traffic impact
U.S. 26 was closed early Wednesday morning between Interstate 205 and Sylvan due to downed power lines, which caused traffic delays for some commuters. The highway reopened in both directions shortly after 6:30 a.m.
On Oregon's north coast, a landslide late Tuesday night closed U.S. 30 about halfway between Astoria and Clatskanie. Crews are working to clear the debris and make sure the road is safe. The Oregon Department of Transportation (ODOT) said they don't have an estimate for when the highway will reopen.


[ad_2]

Source link