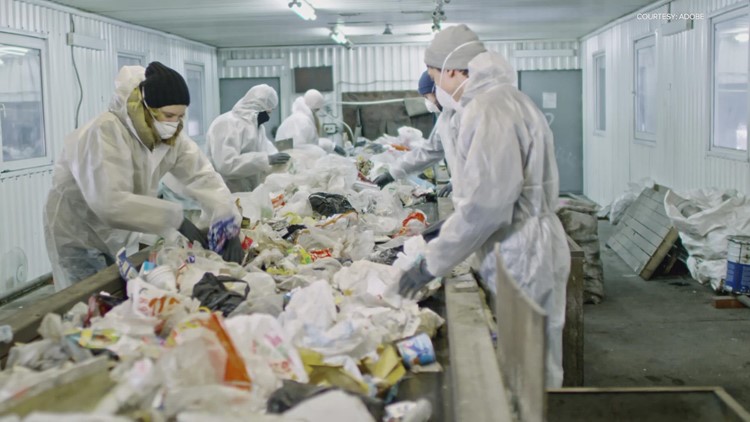 The subscription-based recycling service, which started in Seattle in 2018, now operates in six states with 75,000 customers, including 20,000 in the Portland area.
PORTLAND, Oregon — A recycling company that started here in the Pacific Northwest is finding new ways to keep tons of plastic out of local landfills.
Ridwell, which started in Seattle in 2018, now operates in six states. The subscription-based recycling service has more than 75,000 customers across six states, including 20,000 alone in the Portland-Vancouver metro area.
The company does something most municipal recyclers don't — they take pill bottles, plastic bags and clamshells. And new this fall, they've found a recycling partner for campaign yard signs.
"Ziplock bags, bubble wrap, Amazon mailers, the wrapping around Costco toilet paper — any stretchy, flexible plastic," said Taylor Loewen, the local general manager for Ridwell.
Standing next to one of the two bailers in their Northeast Portland recycling hub, Loewen said the mountains of plastic bags and clamshells in the warehouse are ground down with woodchips and turned into composite lumber, like the popular Trex decking.
Since Ridwell's arrival in Portland in December 2020, they've recycled more than 160,000 pounds of plastic clamshells alone. Partnering with Green Impact Plastics, those polyethylene terephthalate (PET) containers live again and again.
For a monthly membership fee ranging from $12 to $16, customers get a recycling box on their porch that they can fill with stuff their local hauler won't pick up, like plastic clamshells, plastic mailers, batteries, lightbulbs and more. A Ridwell driver picks it up.
Terry Purcell used to run pick-up service for Ridwell. I asked Terry, who goes by Tig, what went through his mind when he walked into the warehouse and saw the sheer volume of what was sitting there.
"There's shock in the amount of physical work and effort it takes to sift through the mountain of stuff we get every day," Purcell said. "There's also a hopefulness. I see that stuff get sorted, I see it get taken away, recycled."
There's also a focus on re-use. Used clothing and shoes get taken to various local nonprofits. Used children's books, too.
"They go to Children's Book Bank," Loewen said. "Old eyeglass frames get taken to organizations like Northwest Lions, where they put new lenses in them. Old collars go to Puplandia pet rescue."
Cooking utensil and bicycles also live new lives with local nonprofit partners.
And in a timely addition, Ridwell will now recycle campaign yard signs.
"We're pairing with a regional partner who's able to take all of those yard signs, turn them into plastic pellets, and then that can be used, instead of virgin plastic, for creating things for pots for plants or cutting boards," Loewen said.