[ad_1]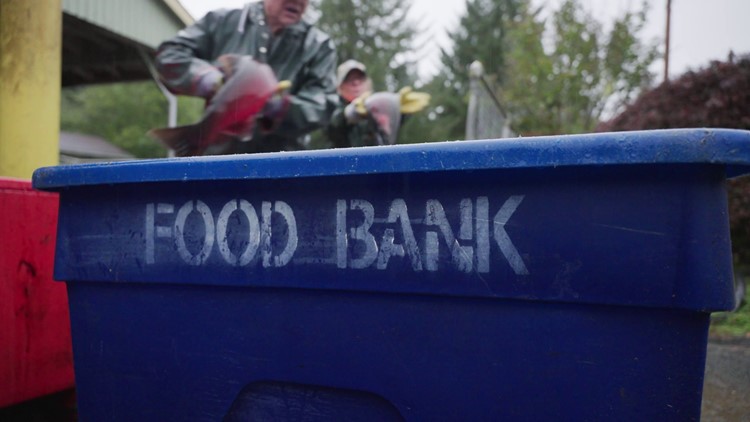 The effort is a collaboration between the North Fork Nehalem hatchery, volunteers, some seafood processing companies and students at Neahkahnie High School.
NEHALEM, Ore. — In Tillamook County, there's a unique solution to hunger that connects local volunteers with the Oregon Department of Fish and Wildlife and a plentiful bounty of fall salmon so families will have enough to eat.
For many anglers, a fall morning on a river like the Nehalem, with rod and reel in hand, is an exciting way to start their day. It's a day that gets even better when eager salmon are on the bite. Lucky anglers say they certainly enjoy this time of year.
You can enjoy it too at places like Nehalem Falls Campground where you'll find a short trail to reach a spot to watch salmon leap for their lives and swim up a 40-yard stretch of roiling whitewater rapids.
Thousands of migrating salmon return here after years at sea. They come back to spawn in the gravel or at hatcheries like the nearby North Fork Nehalem Salmon Hatchery where the fish started life four years ago.
Two or three times a week, a small group of volunteers, the Smiley Brothers and Sisters, "work the trap" and assist the staff in a unique project to share the bounty of the seasonal salmon return. The effort helps fight some of the hunger and food insecurity gripping local communities this holiday season.
"It's cold and wet but we're sorting fish for a good cause," said volunteer spokesperson, Laura Swanson. "We are sorting salmon for the food bank and for stream enrichment. So many hatchery fish have come back up the river to the hatchery."
North Fork Nehalem is a state-operated hatchery that produces thousands of salmon each year. Part of each returning run is needed to produce the next generation of hatchery coho salmon, but that leaves hundreds of extra salmon that can be used for something else — something good!
"We don't regularly get enough fish here to sell," said Chris Lauman, ODFW hatchery manager. "Some hatcheries will, but we don't get enough to do that, so we donate them to the local food banks."
The Smiley Brothers and Sisters started the food bank salmon program in 2009, and judging by the smiles and laughter among the group, this is an event they look forward to each fall
"It's doing something for others and that's the most wonderful thing you can possibly do," said volunteer Greg Gosser. "And it's utilizing a resource that would otherwise be wasted."
"Well, it does put a smile on your face," added Mike Ehlen with a chuckle. He's one of the original Smiley Brothers. "It's such a great group of people, volunteers and donors, plus with the high school kids designing the labels, it's a really cool community process."
Mike is right! Local high school kids also lend a hand.
Neahkahnie High School students design the labels that will go on thousands of canned salmon.
Steve Albrechtsen, the school's art and photography teacher, said that in Tillamook County, up to 60% of school-aged youngsters are on free or reduced lunches. Students know that being a part of creating a food product will help their neighbors so it's an important and creative tie for the young people in his class.
"That's especially true with the season we're in now," said Albrechtsen. "During the Thanksgiving and Christmas seasons of giving, it really kind of sinks in for my students. It's that giving nature that's in all of us! It's more than an assignment. They are giving back to the community in a big way."
Art student Cat Fry was especially proud of her efforts at creating a label that people will take off the shelf and take home.
"I think food banks are helpful for the community and my whole goal was to make a fun label for people to laugh at and stuff like that," said Fry. "So I put a blonde wig on a salmon! After I got the salmon posed, I realized it looked really sassy, so it contains just a little bit of sass. I see salmon, salt and sass!"
The students spend three weeks on the label design project and during that time the surplus salmon make the rounds! First, to a Garibaldi processer called Fish People where thousands of salmon are cleaned and filleted at cost, according to manager Jeremy Zeller.
"We use everything here! I'll sell the carcasses to people who are crabbing and the scraps and skin will be sold to a farmer who mixes it into his compost pile," Zeller said. "We will see the salmon eggs to the fishermen who use them for bait. All the money we get from these will got back to the program for the canning cost and processing cost and things like that. We try not to waste anything here."
From Fish People, the salmon are transported to Bell Buoy Seafood in Seaside for cutting, trimming, and weighing each half-pound can — and again all of the the work is done at cost. 
Owner, Trent Hartill, said 900 cans at a time will be placed in a huge pressure cooker, a steam-powered machine that dates to the 1930s.
"This style and model is still used in Alaska canneries, so even though it's old the technology is largely unchanged," said Hartill. "It's really neat to be able to make a local product, like out of a surplus fish from a hatchery, and then return it back into the community — there's just no other project like that."
Back at Neahkahnie High School that much is certain, as students glue labels on thousands of canned salmon that are soon shipped to be given away at 15 county food banks.
The salmon will provide critical protein for people who don't have enough to eat and provides a uniquely Oregon expression of neighbors helping neighbors.
Laura Swanson said it's a privilege to be a part of the annual project. "It is amazing to be able to take our fish from our river to feed our local communities – totally full circle as far. That's what it's all about."
Be sure to watch the weekly half hour program of Grant's Getaways. The show airs each Saturday and Sunday at 4pm on KGW.
For something different, you can follow my Oregon adventures via the Grant's Getaways Podcast: Each segment is a story-telling session where I relate behind the scenes stories from four decades of travel and television reporting.
You can also learn more about many of my favorite Oregon travels and adventures in the Grant's Getaways book series, including:
The book collection offers hundreds of outdoor activities across Oregon and promises to engage a kid of any age.
You can reach me: Gmcomie@kgw.com
[ad_2]

Source link