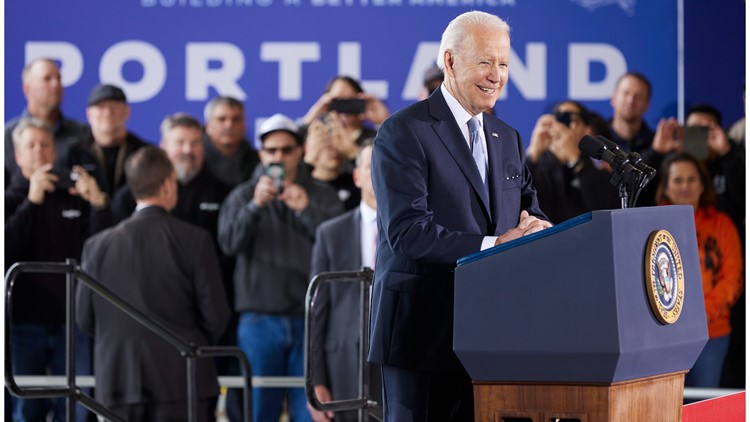 The trip will mark Biden's second stop in Oregon this year, an unusually busy frequency for Oregon when it comes to presidential visits.
PORTLAND, Ore. — President Joe Biden will stop in Oregon next weekend as part of a West Coast trip. It will be his second time this year visiting Oregon, a state where presidential visits tend to be a rarity.
Biden will travel to California from Wednesday, Oct. 12 to Friday, Oct. 14 and then to Oregon from Oct. 14 to Saturday, Oct. 15, according to a Friday morning news release from the White House.
The press release didn't include any further details about the timing, exact location or agenda of Biden's visit. A spokesman declined to comment when asked if the visit had to do with campaigning for the upcoming midterm elections.
Biden last visited Oregon in April as part of a nationwide tour to promote the $1 trillion infrastructure bill that Congress passed late last year. Oregon is estimated to receive about $1.2 billion for transportation projects over the next five years.
Biden's visit next week comes just a few weeks before Americans are set to vote in the Nov. 8 midterm elections. 
The typically deep-blue Oregon has emerged as a surprisingly competitive state this year, due in part to its three-way race for governor, where recent polls have showed Republican Christine Drazan with a narrow lead over Democrat Tina Kotek.