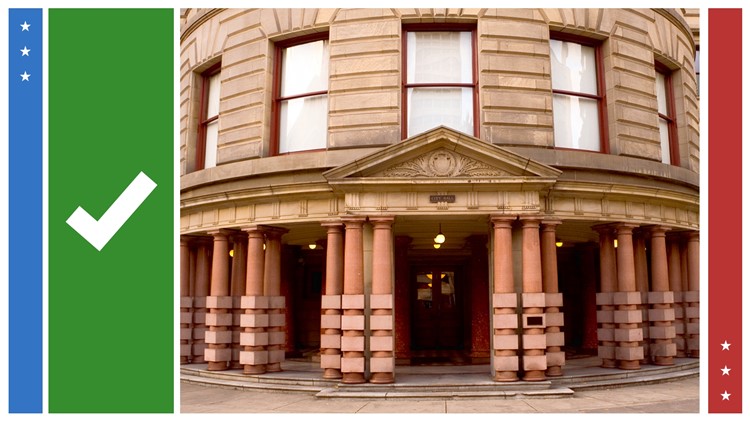 Portlanders adopted a new form of city government in Tuesday's election. Full implementation is two years away, but the transition process starts immediately.
PORTLAND, Ore. — Portlanders have officially chosen to scrap the city's oft-maligned commission form of government and take the plunge on a complete overhaul of the city's government structure.
The new structure will centralize administrative power under a professional city administrator overseen by the mayor and leave the city council in charge of policy. It will also expand the council to 12 members and divide Portland into four districts, each electing three councilors using ranked-choice voting.
Now that the dust has settled on the election, the biggest question for most Portland voters is probably a very straightforward one: What happens now? Chief Administrative Officer Michael Jordan and other city staff held a press conference Wednesday afternoon to begin answering that question.
Transition timeline
A complete overhaul can't happen overnight, so the current mayor and commissioners will remain in place for the next two years. 
Portland will elect its first councilors and mayor under the new system in November 2024 for terms starting in January 2025, according to Jordan and Shoshanah Oppenheim, strategic projects and opportunities manager.
Current council terms will not carry over, which means projected Commissioner-elect Rene Gonzalez and recently reelected Commissioner Dan Ryan will only serve two-year terms, and would need to run and win again in 2024 to remain in the city government.
The city administrator needs to be appointed by the mayor and confirmed by the council under the new system, so they likely wouldn't be hired until the new elected officials are in place in 2025, Jordan said. 
"To get there, a transition team in my office will implement changes that will include working with Multnomah County to set up rank choice voting, and educating Portlanders about that new way of electing officials," said Jordan.
First steps
City staff have been doing preliminary planning work for months in case the measure passed, Oppenheim said, but the work will now need to ramp up significantly.
The first task is to set up three transition groups, Jordan said: a 13-member independent districting commission, a 5-member salary commission and a 15-member transition advisory committee. Members of all three groups will need to be appointed by the current mayor and confirmed by the current council.
Applications for the districting commission are already online. Recruitment for the other two groups will begin soon, according to Michael Montoya, interim director of the Office of Community and Civic Life, with the goal of making applications for the advisory committee available by Nov. 17.
The other big first step is to secure funding for the additional staff that the city will need to hire to provide expertise and facilitate the transition. 
Staff will go to the current city council to ask for funding as part of the annual fall Budget Monitoring Process, Jordan said, with the goal of having a council work session this week and a vote next week.
Cost of transition
The overall cost of the three-year transition period is between $4 million and $6 million, according to city budget office director Jessica Kinard, although the new staffing costs might only be about $1 million — the rest would be needed for other transition components such as new council offices.
The city currently has enough money available in its one-time discretionary budget to cover that entire cost, she said, so the council could choose to break it up over the two years or allocate the whole amount up front.
The estimated cost per year for the new system is still very broad because some of the specific costs are not yet known, Canard said, such as staffing sizes for the new council offices and the software cost of switching to ranked choice voting. Those costs should become clearer during the transition.
It's also not yet known how much the new councilors, mayor and auditor will be paid under the new system. That's what the salary commission will be tasked with figuring out.
Districting commission
The districting commission will have full authority to set the geographic boundaries of the four new districts, Jordan said, but Oregon Constitution requires that political districts be compact, contiguous, separated by conventional dividing lines and of equal population. 
If the commission's final product appears to violate those rules, it could presumably be challenged in court like any other political district map, he added.
The commission will need to finalize the districts by September 2023 in order to make sure there's time to educate voters and candidates about them before the 2024 election season begins.
Election overhaul
Each district will elect three councilors using a version of ranked-choice voting called Single Transferrable Vote, which means all the candidates for that district will run in a single race that will produce three winners. Voters will fill out their ballots by ranking the candidates in order of preference.
The mayor and city auditor will still be elected citywide rather than by districts, but they'll also switch to ranked-choice voting, city staff confirmed. Since those races have only one winner, it's a different type of ranked-choice voting called Instant Runoff, which eliminates the need for a primary election.
The city will need to work closely with Multnomah, Washington and Clackamas counties during the transition to make sure the city's implementation of ranked-choice voting matches the way the counties will update the design of the ballots, Oppenheim said. 
The roles and responsibilities of elected officials will also need to be clearly established ahead of the election, she added, likely in mid-2024.
"Making sure that the city's work can get done and get done well is our highest priority, Portlanders made it loud and clear there is no time to waste," said Oppenheim.
After the transition
The 2024 election will need to include all 12 city council seats, but future elections and council terms will likely be staggered, Oppenheim said, with two districts holding elections in presidential election years and the other two holding elections in midterm years.
The plan calls for the new city councilors to work out of physical offices within their own geographic districts, but they would still convene at City Hall for council meetings — which means the current council chambers will likely need to be renovated or replaced to make room for a 12-member body, Jordan said.
A new districting commission would be convened every 10 years to redraw the boundaries and make sure the districts remain equal in population, he said, the same way that state and federal legislative districts are redrawn once per decade.