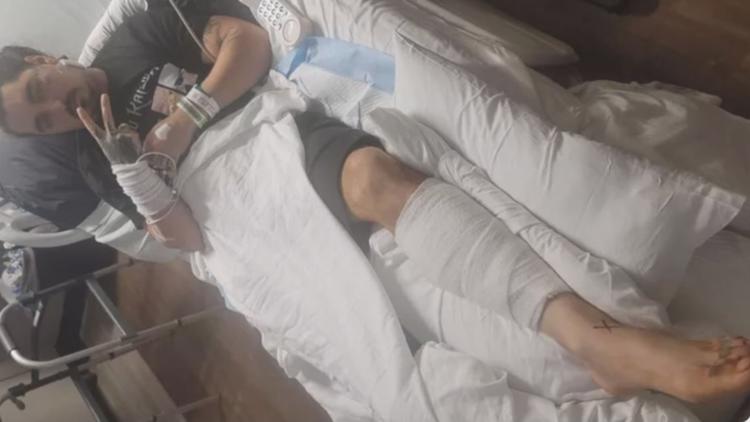 Ryan Callahan owns Menya Hokusei, a ramen restaurant in Portland. He's recovering after being stabbed in the neck and leg while out with a friend in Salem.
SALEM, Ore. — The owner of a Portland ramen restaurant is recovering after being stabbed multiple times in what he says was an attempted carjacking in Salem.
Ryan Callahan owns Menya Hokusei in Portland. Early Saturday morning, he was in Salem with a friend after a night out at Chattyshack, a bar on South Commercial Street. Callahan and his friend walked out to the car in the parking lot.
"We both fell asleep in the car, I didn't have my doors locked, I didn't think I was going to be in the car very long. I guess I fell asleep for about an hour and then he came up and started stabbing me, he was probably trying to get the car," Callahan said. 
Callahan said he woke up to a man opening the door and telling him to get out of the car. That's when the suspect started stabbing him with a knife.
"It went pretty deep, I don't know if you can see, but on my leg, they stabbed me two or three times and one of them hit an artery in my leg," Callahan said.
Callahan's friend ran to a nearby gas station and called police. Callahan said he did not even know he'd been stabbed at first, but he ended up in the hospital for three days.
"They sealed it up pretty good, they have the internal stitches in there," Callahan said.
Now Callahan is trying to get back to work. Menya Hokusei has been closed while he recovers — ordinarily he'd be managing the restaurant, which has only been open a few months. He started a GoFundMe page in order to raise money.
"I'm responsible for people's paychecks and stuff like that so I need to make sure my employees can pay their rent. Also getting stabbed is not really cheap, so medical bills will probably be piled high real soon," Callahan said.
Salem police said the investigation is active and they can't comment on much at this time.