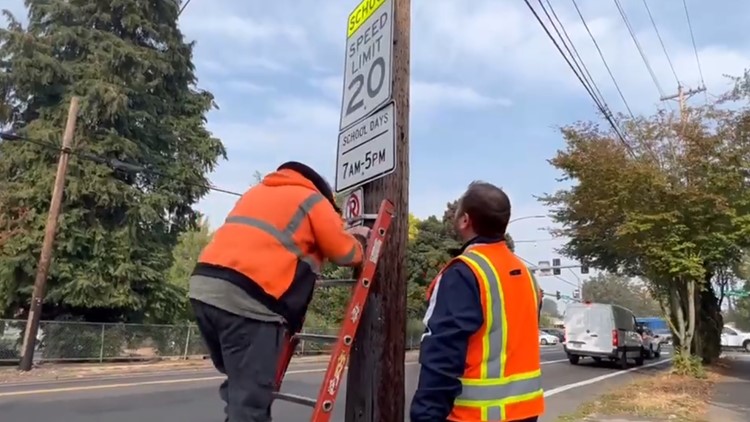 Cars will have to slow down from 25 to 20 MPH moving forward on both Powell Blvd and on 26th Ave in this new school zone.
PORTLAND, Ore. — Some big traffic changes were made to a dangerous Southeast Portland intersection Thursday morning — hours after the city council voted unanimously for the improvements.
Portland Bureau of Transportation (PBOT) installed a total of 11 new school zone signs along Southeast Powell Boulevard and other locations near Cleveland High School.
Cars will have to slow down from 25 to 20 mph moving forward on both Powell Blvd and on 26th Ave in this new school zone. Also approved by city council, any other schools on state-owned highways — like Powell Blvd — will have to be designated school zones as well.
"The assumption under state law is that high school age students are more capable of navigating streets safely," said PBOT spokesperson Dylan Rivera. 
Rivera said they are determined to collaborate with Oregon Department of Transportation (ODOT) to make roads safer to drive, walk and bike around. 
"We all need to today to be more mindful and travel more safely," said Rivera. "And we can reduce and eventually eliminate all traffic fatalities from our streets."
Powell Blvd is one of Portland's high crash corridors. Along the entire seven and half mile stretch, 17 people have died since 2017.
But neighbors living off 26th Ave are a bit concerned at how drivers will follow these new school zone rules. 
"I think it's good that they're actually doing something although I think more could be done," said Christopher Braun, who has lived off 26th Ave for seven years. "One of the problems is if they just reduce the speed limit that's great. But, if there's no one to enforce it, no one pays attention." 
Braun has seen cars completely ignore the speed limit in years past. He believes adding more security measures would help drivers enforce the rules. 
"Maybe cameras at the intersection up there at Powell would help a lot," said Braun. "It would get people turning right on red, it would get people speeding through on a yellow or pink light." 
ODOT also just added striped crosswalks at the intersection of 26th Ave and Powell Blvd to make it more visual. PBOT says they are also working to add back the green bike lanes and bike boxes to 26th Ave and Powell Blvd to make streets safer for cyclists. 
A community safety forum for SE Powell will take place at the Cleveland High School auditorium at 6 p.m. on Thursday, Oct. 20.