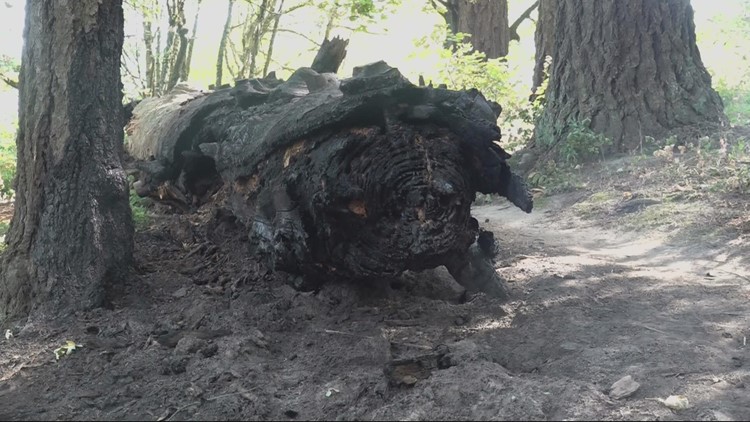 The Multnomah County District Attorney's office said the case remains a pending investigation and would not comment further on why charges were dropped.
PORTLAND, Ore. — Prosecutors have dropped all charges against three Portland teenagers arrested in connection with a string of fires on Mount Tabor over the summer.
On Wednesday, prosecutors dismissed a single count of first-degree arson against 18-year-old Samuel Perkins. Last month, a similar felony charge was dismissed against 18-year-old Malik Hares. A third suspect, Wayne Chen, had his charges dropped shortly after the three teenagers were arrested in September.
Elisabeth Shepard, a spokesperson for the Multnomah County District Attorney's office, said the case remains a pending investigation. Shepard declined to provide any additional details.
Perkins, Hares and Chen could not be reached for comment.
Police arrested the three teenagers in September following a string of fires on Mount Tabor during the peak of Portland's fire season. The city park, built atop an extinct volcano, is filled with trails, plants and trees. It's surrounded by homes.
Investigators linked Hares and Perkins to at least 36 fires set on Mt. Tabor between July 15 and September 9, according to a probable cause affidavit. The affidavit suggested police caught a break in the case after Hares' car was caught on video in the area.
In an interview with a Portland Fire & Rescue investigator, Hares admitted he didn't know why they were starting these fires and they were just being stupid, according to the affidavit. Perkins also confessed to setting some of the fires, the court records said.
After police arrested the teenagers, Portland Fire Chief Sara Boone issued a press release thanking the community.
"A tremendous amount of time and resources were dedicated to this endeavor with a shared commitment and urgency to identify and arrest these suspects," Boone wrote in a September 11 statement.