[ad_1]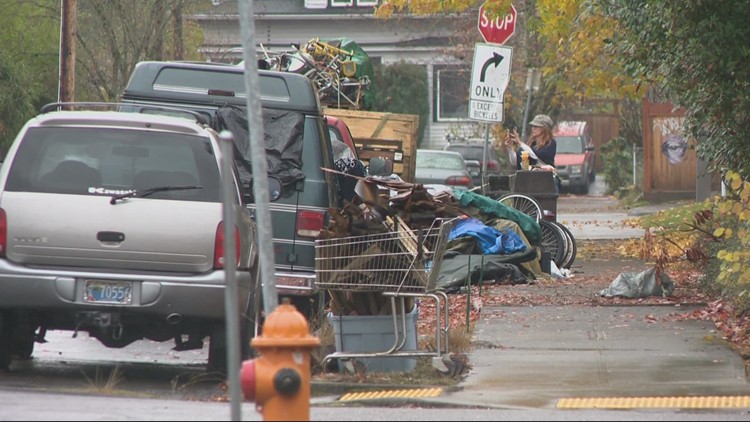 Residents have been reporting a camp on SE 49th and Haig to the city for months, even testifying at city hall, yet nothing has been done.
PORTLAND, Ore. — It's hard to miss the lines of RVs, trailers and tents along parts of Southeast Powell Boulevard. Some of the residential neighborhoods nearby have become magnets for these types of homeless camps, and the longtime Portlanders and families who live here increasingly view them as a threat to safety.
"It's just really sad having been here a long time and just seeing the progression, the downhill escalation of our city," said Anthony Fox, who lives near a camp on SE 49th Avenue and SE Haig Street. "I live here with my daughter, and she is scared to even walk down the street … a few months ago, my daughter was out here meeting a friend in the driveway, and somebody was trying to steal gas out of our car and then presented a gun."
When a KGW crew was out shooting video of the camp, a homeless woman threatened to beat them up.
Neighbors believe someone from the camp was to blame for the large Thanksgiving fire at a nearby U-Haul lot that fire investigators confirmed was caused by someone siphoning gas, a crime those at this camp are known for.
"It was a huge, massive fire and yeah it was terrifying," said Fox. "Had the fire people not come sooner our house would have totally caught on fire."
"Our streets are not safe. Our livability in Portland is really suffering," added Angela Todd who lives nearby. Todd runs PDX Real, a social media account focused on livability issues in Portland, where she highlights homelessness and crime. She also excoriates members of city government that she feels are responsible.
Camps like the one on SE 49th and Haig have been reported to the city numerous times, with no response.
"What do you do when there's been nearly 100 reports and it still persists," said Todd.
"Angela, thank you for being here today and I've made a notation of 50th and Powell and I will find out what the status of 50th and Powell is," said Wheeler in response to her testimony.
It's been two weeks since that meeting, and the camp is still there. In response to a request for comment, the city's Street Services Coordination Center sent the following to KGW in an email: 
"The Street Services Coordination Center has been actively monitoring the encampment located on SE Haig Street, near 50th and SE Powell. The Homelessness and Urban Camping Impact Reduction Program has performed a total of four (4) risk assessments at this site since October 29, 2022. The Portland Police Bureau has also been actively monitoring this area. The SSCC is currently scheduled to post camps this week, for removal next week – which is the soonest we were able to perform this work, given several other critical, high priority projects throughout town.
"The SSCC has been actively working in this area for the past few months. As you may recall, we dedicated significant resources to this area prior to the school year starting. We removed camps and cleaned this area several times during August and early September, and then dedicated a large majority of our staff to cleaning and removing camps along SE Powell during the first two weeks of November. Unfortunately, we find that many people move back to sites immediately after they are cleaned – and we are simply unable to maintain that level of service in one area when there are hundreds of encampments throughout Portland that also need attention. This is why Mayor Wheeler proposed City-sanctioned campsites, so that people have somewhere to camp where they will also receive critical services, such as access to hygiene and meals. Now that City Council has approved this plan, we are hopeful that we will see positive, lasting change in the future.
"Until these facilities are open, however, I can assure you that we are working as quickly as we can to address the impact of homelessness throughout Portland's city limits with the resources we have available. We receive an average of 3,400 complaints about campsites each and every week, and we perform several hundred assessments each week as well."
Still, some Portlanders don't see this as enough action, leaving many with only one option. 
"We're considering moving this summer, in fact," Fox said.
"The trauma here is real, and what is here is not homelessness — what is here is organized crime, and its being allowed underneath the umbrella of homelessness and compassion," added Todd.
From Nov. 14-20, the city received nearly 3,000 new campsite reports. 906 of them regarded campsites along Southeast Powell boulevard, including 294 involving people living in vehicles like the SE 49th and Haig camp.


[ad_2]

Source link