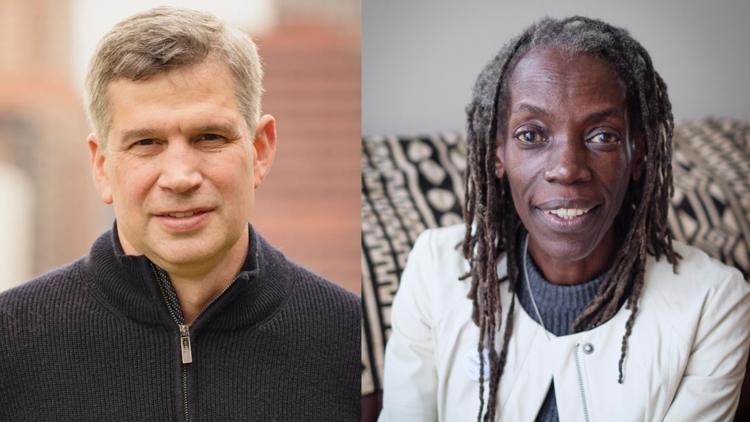 Rene Gonzalez says the mailer contains false information about him. The letter comes after his campaign office was vandalized over the weekend.
PORTLAND, Ore — Early Monday afternoon, Portland City Council candidate Rene Gonzalez surveyed the damage to his campaign office in downtown Portland. He said someone through rocks through a glass door and window during a 'direct action' protest event late Saturday night or early Sunday morning.
"It's a bit of a downward spiral in the political rhetoric in the Northwest," he said. "This didn't happen two or three years ago."
Gonzalez said he can't help but wonder if the vandalism was at all connected to a recent campaign mailer sent out by his opponent in the election, incumbent Portland Commissioner Jo Ann Hardesty.
"I honestly can't tell you definitively," he said. "We don't know. There's an ongoing investigation."
The mailer distributed by Hardesty's campaign suggests Gonzalez violated campaign finance rules by getting a discounted rent deal on his campaign office. Gonzalez's campaign was fined for the incident, but a judge recently overturned the fine and said the discount wasn't a campaign finance violation.
The mailer also suggests Gonzalez surrounds himself with Republican consultants whose clients include Ted Cruz and Marjorie Taylor Greene.
"Our consultants took one look at the mailer and said this is patently false in a number of ways, and it doesn't seem like they're playing by the same set of rules that we are in terms of honesty in mailers," Gonzalez said.
In response, Gonzalez's campaign sent a cease and desist letter to Hardesty's campaign, alleging that the mailer is untrue and defamatory and has caused Gonzalez severe emotional distress and obstructed his professional prospects and desire to represent Portlanders.
Hardesty called the cease and desist letter a campaign stunt.
"I think voters will see this for what it is," she said. "It's a distraction and I'm going to keep talking to voters because there is only eight more days to get the ballots in, and living in a state that's the easiest state to vote in. I want to focus on people turning in their ballot."
That sentiment was echoed by Gonzalez.
"We're just going to try to turn it back and stay focused on Portlanders," he said.
Gonzalez and Hardesty are scheduled to sit down with KGW's Laural Porter on this week's edition of Straight Talk.