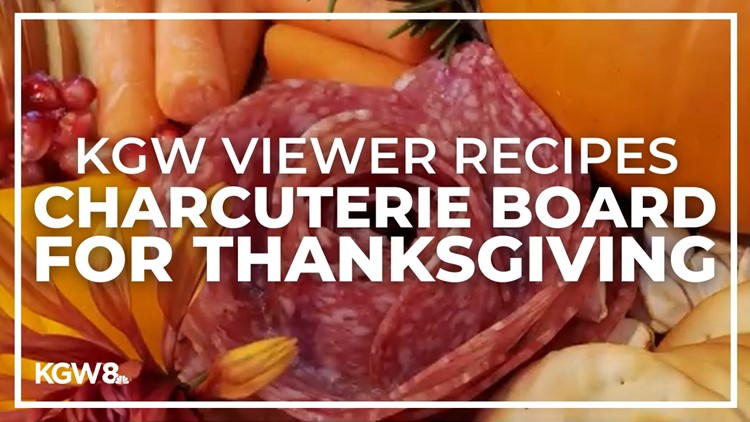 Just in time for Thanksgiving, KGW viewers share recipes for their favorite Turkey Day dishes!
PORTLAND, Ore. — This week on KGW News at Sunrise, viewers are taking part in our early morning newscast by sharing some of their favorite Thanksgiving dishes.
They're not just sending us the ingredients and instructions — these wonderful viewers are actually letting us into their homes and their kitchens so they can show us how they put these recipes together. Videos and recipes will be added to this article as segments air throughout the week.
Here are the recipes getting the spotlight this week on Sunrise:
Monday: Charcuterie Board
This recipe comes from viewer Jen!
Charcuterie making is really easy — use your creativity and think "variety" and "full" and you'll get a beautiful board no matter what you choose! 
Board of your choice (choose something that seems like it will serve the amount of guests you have)
Cheese
Crackers
Meats
Veggies
Salty/Pickled Items
Fruit
Nuts 
Sweet Treats
Garnish
Choose a variety of cheeses, prep them in various ways. Slice into squares or triangles or cubes or chunks. Place them around your platter. Use an elevated plate for the spreadable to create texture in the appearance. Look for different flavors, styles, consistencies. (Ideas here: one spreadable, one cheddar, one gouda and then a few more rare styles or maybe mozzarella balls for a variety in shape)
Create a trail of crackers. Any crackers work. Having several types of crackers is nice and a gluten-free option is a great consideration. Bread works too! Just line them up in a curve or several straight lines or stack them creatively! 
Select 2-4 varieties of meats. Arrange them on your board by stacking them, rolling them, piling them, etc. Place them alongside the cheese or make a shape with them. Salami and prosciutto are a must, consider adding in a rolled up ham or turkey or cut up chicken.
Veggies — optional of course — think of things with color that make the plate pop. Peppers, carrots, celery, cucumber — anything goes. Look for places on the board that the color creates a "pop." Use the veggies to alter the visual and spark interest. Maybe add a dip next to them. 
Use ramekins, tiny bowls, small mugs or little plates to add Salty/Pickled items: olives, cornichon, pickled asparagus, pickled onion, pickled radish! The list is endless here. Use empty spaces on the board and fill it up!
Finish off your beautiful platter by filling any blank space you can find with colorful, classy fruits (like grapes, apple slices, oranges, berries, pomegranate seeds), a sprinkling of nuts (anything works — truffled almonds, pistachios, candied pecans, spicy cashews), some sweet treats (chocolate, wafers, macaroons, seasonal candy) and a live garnish (rosemary, flowers). 
Don't forget to add cheese knives, some toothpicks, serving spoons and anything else your guests might need to enjoy the board.
Check back Tuesday for the next recipe!