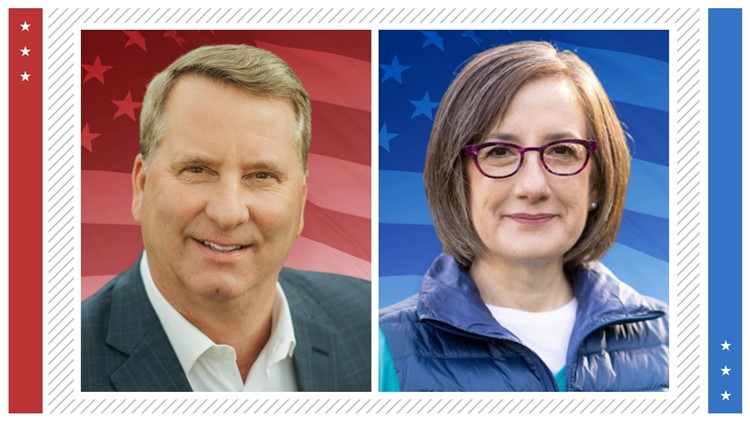 Oregon's 6th Congressional District is truly uncharted territory, created during redistricting after the 2020 Census.
PORTLAND, Ore. — Voters in Oregon's brand new 6th Congressional District will not know Tuesday night who will be their first representative in another unexpectedly competitive race that once seemed a foregone conclusion for Democrats.
As of 10 p.m. Tuesday night, Democrat Andrea Salinas was ahead of Republican Mike Erickson, with 50% percent of the vote to Erickson's 48%. A total of 187,333 votes had been counted in the race at that time.
After the 2020 Census demonstrated Oregon's population growth over the preceding decade, the state was handed an additional seat in Congress. That kicked off a redistricting process in the legislature — one that began as a bipartisan endeavor, but ended with the dissolution of the redistricting coalition as Republicans accused the Democrats of gerrymandering.
Ultimately the maps were approved and adopted by the legislature and Gov. Kate Brown; redrawing district boundaries and creating the new 6th District in an area around the city of Salem, extending north and west.
The 2022 midterms marked the first chance for voters in the new district to choose a representative in Congress. Emerging from the primaries were former state lawmaker Andrea Salinas, a Democrat, and businessman Mike Erickson, a Republican.
Democrats were heavily favored to win the new 6th District seat this election due to past voting trends for the area, which Joe Biden won by 14 percentage points in 2020, according to Politico. But, as with a number of races in Oregon this year, polling closer to Election Day showed Democrats in a dead heat or falling behind their Republican opponents.
The race became increasingly heated as Salinas and Erickson traded barbs in political advertisements.
Salinas' campaign painted Erickson as a hypocrite who has campaigned on a "law and order" message after being arrested for driving under the influence in 2016 and promoted family values after having faced allegations that he paid for a girlfriend's abortion in the past. Erickson's campaign pored over Salinas' voting record in the legislature, highlighting where she voted in favor of taxes and tolls — including votes for a corporate activity tax to fund the massive Student Success Act and for a bill that funded tolling on I-205.
Experts pointed to national-level issues likely to impact voting in the 6th District: the overturning of Roe v. Wade by the U.S. Supreme Court, which boosted Democrats' efforts early in the race, juxtaposed with the ongoing issues of inflation and at least a perceived spike in crime, which Republicans have increasingly capitalized on heading toward the election.