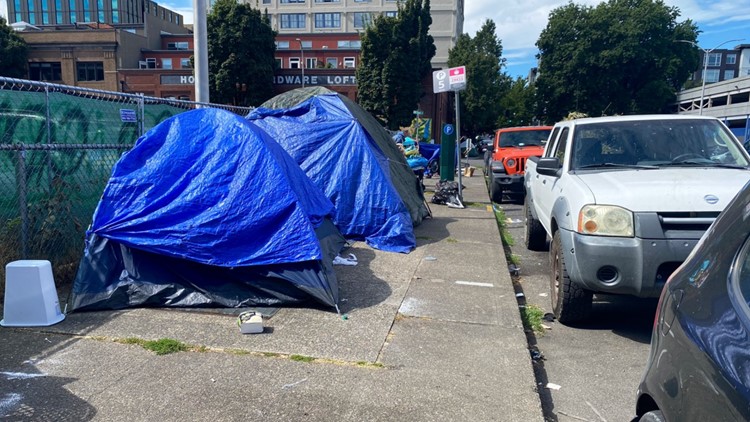 The long-term consequences of felony charges often prevent people from qualifying for jobs or housing.
PORTLAND, Ore. — Dozens of homeless encampments line parts of Portland's Southeast Powell Boulevard. It's a popular place for many homeless people with cars and large tents and a hot spot for the city's Rapid Response crews. 
While everyone has a different story about how they ended up there, the majority face a similar barrier that's stopping them from getting off the streets: a criminal background, specifically felony charges.
"Because I have such an extensive criminal record, it's almost impossible for me to get a job," said Matt, who lives with his wife in a green and white tent amid a sea of overflowing shopping carts off Southeast Powell. "It's a cycle. It's a downward spiral."
Matt faced 11 felony charges for manufacturing, distribution and possession of marijuana and cocaine. The first two charges were filed in 1998, with four more in 2001 and five in 2017.
"Honestly, it's been so long I've had those felonies on my record for so long I don't even really think about it anymore," he said while lighting a cigarette. It was 11:30 a.m. and he had just rolled out of his tent. 
"If we want our communities to be safe and for people to live safe, stable lives they have to have a second chance," said Shannon Wight, the deputy director at Partnership for Safety and Justice, a nonprofit that advocates for solutions to crime that don't involve incarceration.
"If we're holding people accountable, do we need to saddle them with a lifelong felony conviction?" Wight asked.
KGW asked Wight for her response to claims that people with criminal backgrounds who get pardoned repeat crimes and don't change their behavior. Wight said she thinks there needs to be accountability if people cause harm in the community, but questioned whether incarceration helps those addicted to drugs who commit crimes.
"I don't think people would say that shouldn't happen,' she said, referring to keeping people accountable, "but if it's something like an addiction-driven crime, if someone's using or doing other things related to their drug use, the thing that's going to help them not commit those crimes is not incarceration, it's actually getting the support they need to be successful," Wight said.
That support can come in many forms. In Matt's case, it came from outreach workers at Central City Concern. 
"They just make us feel like part of the human race again, not like the dregs of society," Matt said.
A team of seven people at Central City Concern find and meet with about 200 homeless people a week and help people like Matt chart a path to getting off the streets. A common barrier for many is repeat felony charges for things like certain drug use and property crimes, along with violent crimes like assault. 
Portland police doesn't keep track of how many felonies they charge homeless people with since it's hard to keep track of their housing status. But the consequences for felony charges range from prison to jail sentences, fines, potentially losing the right to vote and being denied professional licenses, which can prevent people from qualifying for housing or employment.
"It can be a hugely prohibitive. It can really shrink what their opportunities are," said Drew Grabham, who manages the outreach team at Central City Concern.
"It's almost pointless," added Amanda Drennen, who lives in a tent a few streets down from Matt. 
She dreams of one day getting out of homelessness and running her own daycare.
"I'm pretty much ready to go. I got my wagon with my food and stuff. I would like to get a job. I would like to see myself moving forward. I would really like to see myself out of a tent," Drennen said.
She's been homeless for two months and has tried to find work.
"Secretary job I've tried, and I've tried to do home-based jobs too, but that's not working out because I don't have a lot of experience," Drennen said.
However, lack of experience is only part of the problem.  
"You don't have your clothes washed. You don't have an alarm clock. Ninety percent of the time, if I have a phone, it's dead," she explained.
"Like look at me," Matt said, referencing his ripped jeans and T-shirt, which sayd "I'm A Problem" in big blue letters. "I don't look hyper-employable. I smell like s— for maybe like half the month. It's hard to get a shower. I got to ride a bike to wherever I get a job, which by the way, got stolen last night. You see a theme going on here in Portland."
It's a theme that leaves many on the streets hopeless.  
"Portland has good people it could be a nice place, but it's just for whatever reason is a s— place to be right now," Matt said.
As for the outreach teams working with the homeless, they need more funding and staff in order to keep up with the increasing number of homeless people on the streets. A recent Point-in-Time count suggests 5,228 people are living on the streets in Multnomah County.
Advocates also stress the importance of the upcoming election when it comes to criminal justice reform and keeping Measure 110, which decriminalizes possession of some hard drugs. They argue that measure is a step in the right direction to end this cycle.