[ad_1]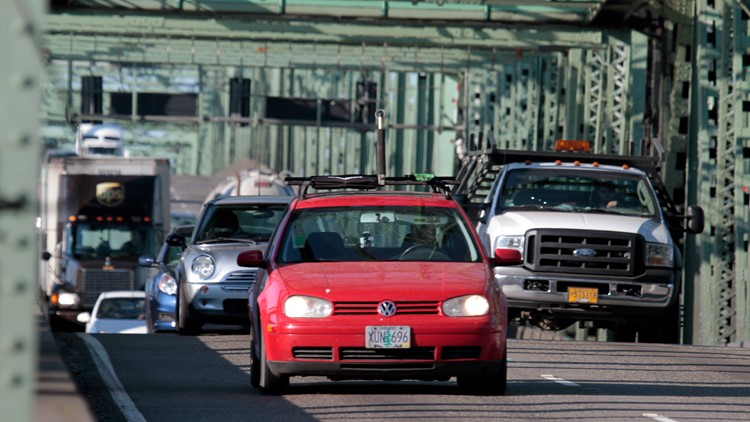 Many of the drivers who fill Portland-area interstates during peak congestion hours are coming to and from work. Not all of that work pays particularly well.
PORTLAND, Ore. — For the past several weeks, we've done some reporting on the Oregon Department of Transportation's plan to introduce tolling on I-5 and I-205 in the Portland metro area. As a result, we've gotten repeated questions about how low-income commuters are supposed to be able to afford the extra financial hit.
According to ODOT, the first tolls will go up on the Tualatin River and Abernethy bridges on I-205 in about two years. Other spots on I-5 and I-205 will follow the next year.
When tolling begins, commuters will get a free transponder from ODOT. It's a simple electronic device that sits in your vehicle and notifies the tolling system when you pass under its cameras.
Drivers will have an account where the toll fee will be automatically charged. For those without an account, the cameras will capture a picture of your license plate and send a bill to the associated address.
The precise amount of the tolls is still under consideration, but ODOT's working estimate is a maximum of $2.20 on the Abernethy Bridge during peak hours, and a similar amount on the Tualatin Bridge. It will be lower during other times of day and lowest overnight.
But the cost brings up the issue of equity. It's quite a bit easier for someone making $250,000 a year to pay the tolls than someone making $30,000.
ODOT put together a group to study the issue, which they called the "Low-Income Toll Report." The agency said that they met with stakeholders and the community over several years to gather input, and also considered recommendations from their Equity and Mobility Advisory Committee.
The study used percentages of the federal poverty threshold, the "poverty line," to figure out where people should get a break in the tolls. They think the biggest breaks should be for people at 200% of that line and below.
In real numbers, that 200% figure equates to a single person making $27,000 a year or less, or a family of four making $55,000.
The report explains that 200% of the poverty line is commonly used to determine eligibility for existing low-income programs in Oregon and throughout the U.S.
This is where ODOT plans to start. The report recommends significant toll discounts, credits, free trips, percentage discounts or full exemptions for households at or below the 200% threshold. The equity committee was divided on whether those groups should get to travel for free or receive a 90% discount.
The report also states that about 25% of people living in the Portland metro area are at or below 200% of the federal poverty line.
When we spoke to ODOT's tolling manager in mid-November, the 200% line for some kind of discount was the only price break certain to be under consideration, but she said that other discounts could be recommended by rule makers next year. 
The report does recommend as much, suggesting that drivers above the 200% get a break as well. It suggests smaller, more focused toll discounts — credits, free trips, percentage discounts, tax credits or a full exemption — for people making up to 400% of the federal poverty level.
In real numbers, 400% of the federal poverty line equates to $54,000 or less for a single person and $111,000 for a family of four.
Finally, there's the question of how to verify what someone makes. The ODOT report suggests using existing programs, like public assistance for food and other things, that could serve as proof. The state could automatically enroll those people in a free tolling program.
The equity committee and others also suggested letting people "self certify" that they are at those lower income levels.
None of these recommendations are set in stone as yet. They'll go to a statewide toll rule making committee, which will then make a final recommendation to yet another committee, the Oregon Transportation Commission, which will make the final ruling on what discounts are available for low-income commuters.
Now, you may be wondering — why does a statewide toll rule making committee get to determine what toll rates will be for the Portland area? According to an ODOT document explaining the committee, rules will govern tolls on both planned projects in the Portland metro region and "future toll projects that may occur in other parts of the state."
The insinuation is that, while tolls may start in the Portland area, there's nothing confining them here.
Some of our viewers have decried the fact that they didn't get to vote on tolling. It's true enough that voters didn't get a direct voice in the matter — unless you count voting for your state lawmaker — and some people we've spoken to want to pass a ballot measure to change that.
For some quick background, the road to tolling started quietly about five years ago, during the 2017 legislative session. House Bill 2017 directed the Oregon Transportation Commission to develop something they called a "congestion relief fund" and to ask the federal highway commission if they could start tolling on I-5 and I-205. The feds eventually acquiesced, and ODOT's been slowly but surely working toward this outcome ever since.
[ad_2]

Source link