[ad_1]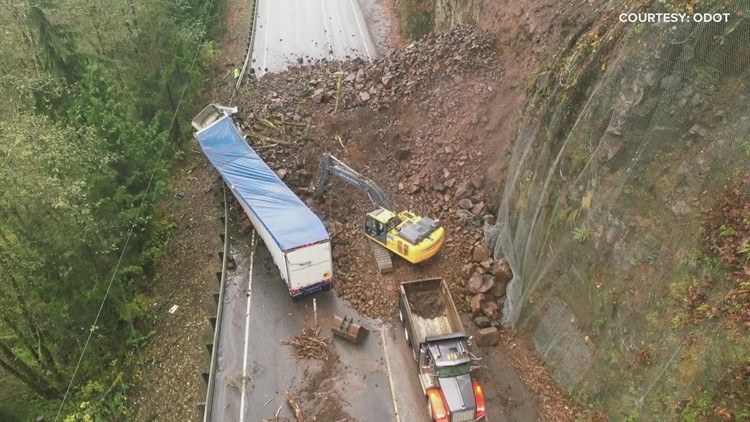 Crews are working to remove debris, tow away a semi truck and remove two sections of the hillside before they can reopen one lane to traffic, ODOT said.
ASTORIA, Ore. — A landslide on Oregon's north coast about 20 miles east of Astoria has kept Highway 30 closed since Tuesday night. The Oregon Department of Transportation (ODOT) reported Thursday morning that the highway may stay closed through the weekend.
Crews are working to clear the debris and make sure the road is safe. ODOT said it hopes to be able to open at least one lane with flaggers sometime this weekend, though they cautioned they still have "no estimate time for reopening a lane." The department said it won't happen any sooner than Friday and that crews will continue to work through the weekend, if necessary, to get the highway back open as soon as it's safe.
The landslide happened late Tuesday between 10:30 and 11 p.m. It started about 100 feet above the road and was likely caused by heavy rain and wind, ODOT said. The slide is about 110 feet wide and sent at least 10 truckloads of rock and mud onto both lanes of traffic. A semi truck drove into the slide but the driver was uninjured. ODOT said the semi has since been removed from the landslide but still needs to be towed away.
Photos: Landslide on Highway 30
To open one lane on Highway 30, ODOT said two sections of the hill where the landslide occurred still need to be removed because they're on the verge of sliding and are large enough — roughly the size of two cars — to block the entire highway when they fall. Crews also need to clear enough debris from the road and repair any pavement damage to open up a single lane of traffic, giving space for flaggers and for crews to keep working to clear debris and catch any new, smaller slides.
ODOT said travelers who are driving between the Portland metro area and Oregon's north coast this weekend should take Highway 26. Other options include Highway 47 and Highway 202, though ODOT warned that 47 has length restrictions for vehicles. ODOT said drivers shouldn't use GPS on less-developed roads (like highways 47 or 202), especially in severe weather conditions.
For the latest traffic updates on Highway 30 and all Oregon roads, check tripcheck.com.
[ad_2]

Source link