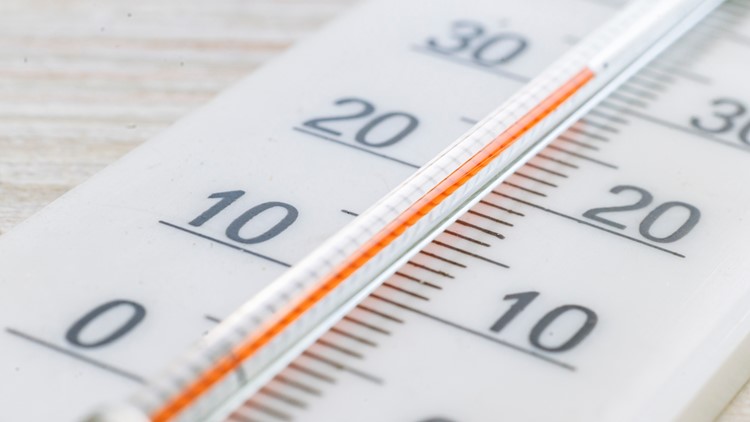 Some parts of the Willamette Valley will see freezing temperatures and several days of dry weather.
PORTLAND, Ore. — After Oregon saw a record-breaking warm and dry October, the month of November is off to a cold and wet start. This week, the Willamette Valley will see high temperatures below normal for this time of year and freezing low temperatures in some areas.
A cold upper low will bring daytime high temperatures around 10 degrees below normal for early November, according to KGW meteorologist Rod Hill.
"Heavy showers may bring hail and thunder as snow levels hold between 1,500 and 2,000 feet for sticking snow," Hill said.
Snow in higher elevations
Some KGW viewers in areas near 1,000 feet elevation in Clackamas County and the mid-Willamette Valley — including the towns of Jefferson, Beavercreek and Sandy — shared photos of a dusting of snow on the ground on Sunday.
There were also reports of snow on the ground at the pass level along Highway 26 along the Oregon coast range.
Freezing temperatures
Rain showers on Monday are expected to mostly end at night. The cold upper low responsible for Monday's showers will drop south and weaken Tuesday, bringing several days of dry weather, according to Hill.
As the low drops south, gusty east winds will also develop Tuesday and the dry air will allow for freezing temperatures in some areas starting Wednesday morning through Friday. Hillsboro and Salem could see temperatures drop to 26 degrees Wednesday morning.
Gusty winds
In addition to the cold weather, people near the Columbia River Gorge can expect to see 30-40 mph gusts on Tuesday. The wind will keep cities like Troutdale above freezing Wednesday morning, but wind-protected areas will drop to freezing.
"I expect the worst of the wind to ease during the day Wednesday and the calmer conditions will open the door for freezing nights into Thursday and Friday mornings," Hill said.
This weekend, a low pressure center on Saturday could pull enough of an east wind to make snow and freezing temperatures a possibility.
"As of right now, the low center looks weak and better odds favor rain with valley temperatures holding in the mid to upper 30s or 40 degrees," Hill said. "Still, with cold air in place, it's best to keep a close eye on the forecast.
Editor's note: The video in the media player at the top of this article is from KGW+, our free Roku and FireTV app. You can watch extended weather updates from KGW's weather team by downloading the KGW+ app.