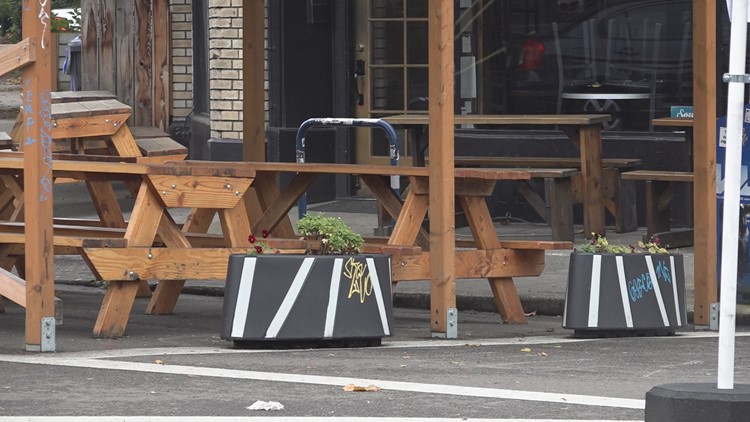 The Portland Bureau of Transportation said fewer businesses are applying for the "Healthy Business Permits" needed to utilize street dining.
PORTLAND, Ore. — Fewer business are utilizing street dining plazas, according to the Portland Bureau of Transportation. 
Dylan Rivera with PBOT said there's 350 permits as of now, which is half the amount from a year ago.
"A lot of businesses say they're ready to go back to normal," Rivera said. 
PBOT wants to improve the safety of the outdoor dining structures after receiving some complaints from residents, Rivera said. 
"When they're walking in the neighborhood, it's hard for passing car traffic to see them," Rivera said. "Hard for them to see around some of these installations."
Rivera said there's rules and regulations on where the structures can be placed.
"Proximity to a stop sign is a substantial issue, making sure we have clearance and vision clearance at stop signs," Rivera said. "No more than six feet tall within forty feet of a stop sign."
PBOT will be looking at the safety of the structures and coming up with new guidance in the future, and would like input from business owners and the community, Rivera said  
"We wouldn't be here without the structure, we would have closed last year without this outdoor seating, all summer long, it basically paid for itself," said Eli Johnson owner of Dot's Café on Southeast Clinton Street in Portland. 
Johnson said he's going to continue his outdoor seating as long as possible because it adds a lot of extra seats and some of his customers are still worried about COVID.
"This costs us about 20,000 dollars to build," Johnson said. "Lumber prices have gone through the roof with the pandemic, labor prices have gone through the roof."