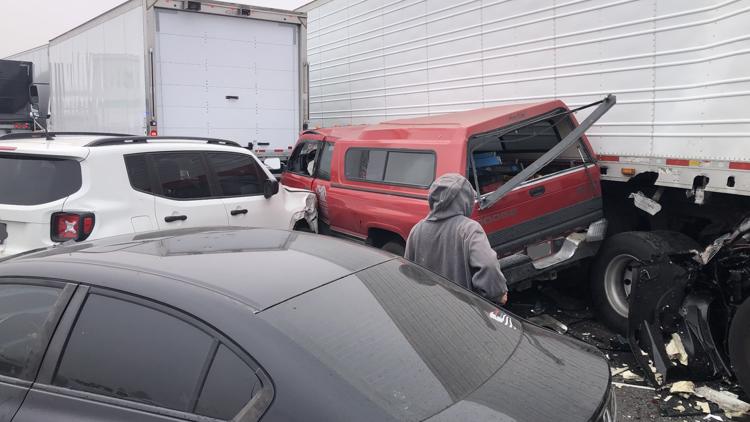 An estimated 45 cars and 15-20 semi trucks were involved in the crash. At least one person was killed.
LINN COUNTY, Ore. — Dozens of cars and semi trucks crashed on I-5 Wednesday morning in Linn County, leading to a pileup that has closed down the southbound lanes of the interstate and killed at least one person. 
Oregon State Police estimates 45 cars and 15 to 20 semi trucks were involved in the crash near the Halsey-Brownsville exit, north of Eugene. Officials said six of the semis are leaking fluids onto the roadway and the Oregon Department of Environmental Quality and hazmat crews are responding. 
One person was killed. Information hasn't been released yet on other injuries. 
On social media, the Oregon Department of Transportation said multiple crashes had happened in the area during heavy fog. Photos from the scene showed a line of cars on the freeway surrounded by emergency vehicles and debris in dense fog, other pictures showed several cars piled up. 
Massive I-5 pileup | Photos
School buses from Eugene are helping relocate about 30-40 drivers involved in the crash and are taking them to the Pioneer Villa Truck Plaza in Halsey, just off the interstate.  
The Interstate is expected to be closed for most of the day. ODOT crews dropped a cable barrier on the interstate to allow cars caught in the gridlock to detour. ODOT will be updating TripCheck with the latest closure and detour information.
This is a developing story and will be updated with new details.