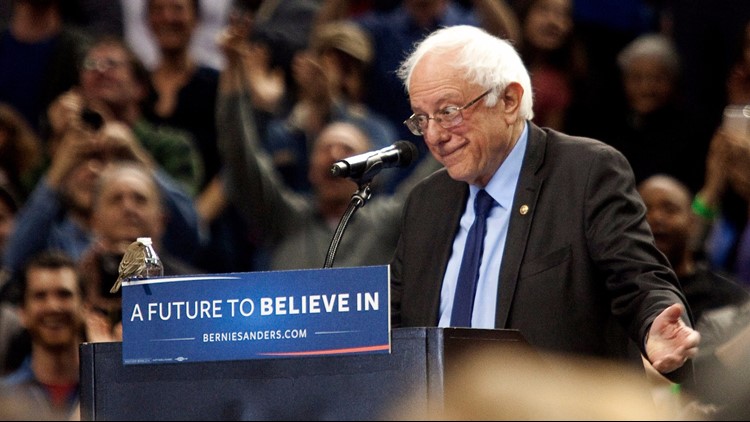 Sanders was scheduled to join Democratic members of Oregon's congressional delegation at rallies in Eugene in the morning and Portland in the afternoon.
PORTLAND, Ore. — U.S. Sen. Bernie Sanders is set to visit Portland Thursday afternoon to stump for Oregon Democratic candidates at a "Get Out The Vote" rally.
The Senator from Vermont, who is an Independent but caucuses with the Democrats, will appear at a rally at the Roseland Theater in downtown Portland alongside Oregon candidate for governor Tina Kotek and three members of Oregon's congressional delegation; Sen. Jeff Merkley and Reps. Earl Blumenauer and Suzanne Bonamici.
Merkley's office announced the plans for the rallies in an email earlier this week. Sanders was also scheduled to make an appearance at a rally Thursday morning at the University of Oregon in Eugene.
With the midterm elections less than two weeks away, it's been a busy month for national political figures visiting the Pacific Northwest. Sanders' visit comes a day after Vice President Kamala Harris visited Seattle and about a week after President Joe Biden made his second visit to Oregon this year. 
Former President Barack Obama also released a video endorsing Kotek last week, and Sen. Elizabeth Warren appeared at a Kotek rally earlier this week.
Kotek is in a three-way race for Oregon governor against Republican Christine Drazan and unaffiliated candidate Betsy Johnson, and it's become an extremely close race, with several polls showing a narrow lead for Drazan.
Sanders drew huge crowds at the Moda Center when he visited Portland during his 2016 presidential campaign, an event that became an instant viral sensation when a bird landed on the podium in the middle of his speech.