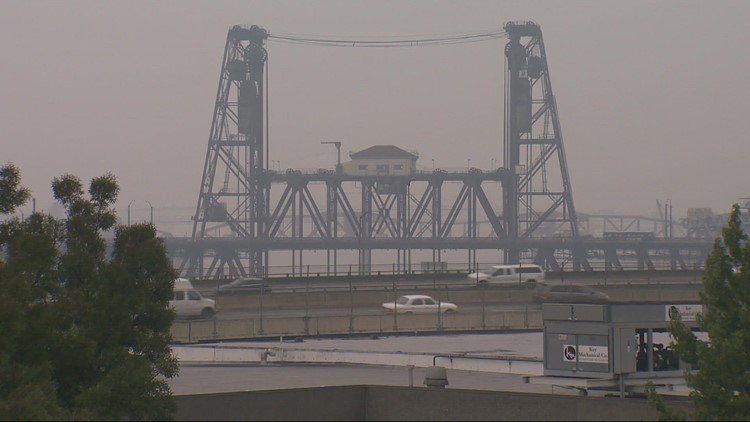 "The western valleys should be smoke-free by Friday morning," according to KGW Chief Meteorologist Matt Zaffino.
PORTLAND, Ore. — The air quality in Portland and surrounding areas has been among the worst in the world for the past few days. On Thursday morning, the World AQI Ranking ranked Portland's air quality second-worst across the globe. Only Seattle, dealing with wildfire smoke, ranks higher.
Portland's dismal air quality is also a product of wildfire smoke from the Nakia Creek Fire burning in Southwest Washington, near Camas in Clark County. The fire, which exploded from about 150 acres to more than 1,500 acres on Sunday, has seen its growth slow and containment increase over the past couple days. But the smoke persists, making life miserable for everyone in and around Portland. The air quality moved rankings from fourth worst in the world on Wednesday up to second worst on Thursday. 
"We turn the page on that story Thursday afternoon and evening," Zaffino said. "The smoke will clear from west to east during the day Thursday, as cooler winds from the coast blow and in and change out our stagnant air. The morning will still be smoky, but our air quality will be much improved by sunset. The western valleys should be smoke free by Friday morning."
Even better news? Zaffino said a strong Pacific cold front arrives Friday, which will bring with it the first rain of October.
"Area wildfires will get a good soaking rain," Zaffino said. "The weekend will be cool and showery as we go from much-above-average temperatures to below-average temperatures for the next week or so, with frequent periods of rain."
Zaffino said the valley will get between a half-inch and a full inch of rain and the Cascades will get one to two inches. Sunday morning will start dry but a new storm is expected to arrive Sunday night and Monday.
Temperatures will cool this weekend, with highs in the 50s, rather than the 70s and 80s Portland has seen in recent days, Zaffino said.
The storms will also bring snow to higher elevations, with significant accumulations on the ski slopes. Zaffino said the passes may see sticking snow overnight Friday into Saturday morning.
How to check the air quality in your area
The Department of Environmental Quality (DEQ) and partner agencies monitor smoke levels and provide reports on how clean the air is and any potential health risks.
People who want to know what the air quality in their neighborhood looks like can visit the Air Quality Index (AQI) interactive map on the DEQ website. The AQI map uses a color-coded system ranging from "Good" (labeled by green dots), which means air pollution posts little to no risk, to "Hazardous" (labeled by maroon dots), meaning air quality is unhealthy for everyone.
The Environmental Protection Agency also has an online tool where people can type in their zip code, city or state to view the air quality index.
How to protect yourself from smoke
Smoke can irritate the eyes and lungs. People most at risk include infants, young kids, older adults and people with certain medical conditions such as heart or lung disease.
The DEQ recommends people take precautions when smoke levels are high:
Stay indoors and keep windows and doors closed
Avoid outdoor activities
Use high-efficiency particulate air (HEPA) filters in indoor ventilation systems or portable air purifiers
The DEQ notes that cloth, dust and surgical masks don't protect people from harmful particles in smoke. A particulate respirator marked with the word "NIOSH" can help prevent smoke exposure.