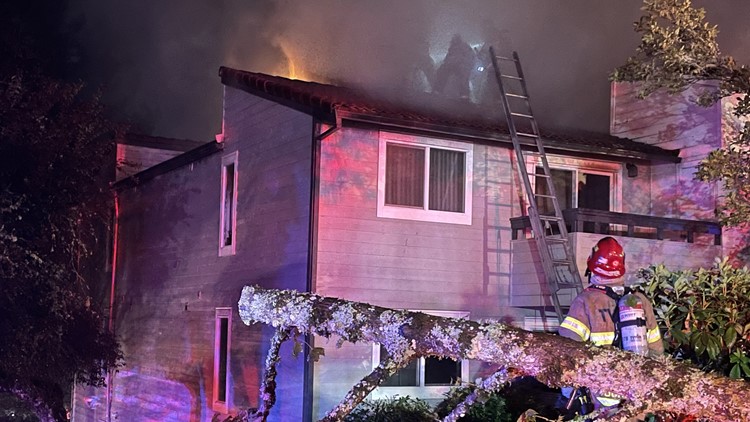 Tualatin Valley Fire & Rescue said that firefighters rescued multiple people and pets from the burning building early Saturday morning.
PORTLAND, Ore. — Multiple people were injured and dozens displaced after a fire broke out at an apartment building west of Portland in the early hours of Saturday morning, according to Tualatin Valley Fire & Rescue.
Around 3 a.m., multiple callers reported seeing flames coming from a building in the 8100 block of Southwest Barnes Road. Deputies from the Washington County Sheriff's Office were first to arrive at the scene, TVF&R said, and they helped evacuate residents of the apartment building.
As firefighters arrived, they saw flames coming from the windows, roof and stairwell of the building. Crews began putting water on the fire as some firefighters went inside, ultimately rescuing seven people and multiple pets who were trying to escape the smoke and flames, TVF&R said.
As the firefight continued, officials called for a second alarm, bringing in three units from Portland Fire & Rescue.
Ultimately, eight people were taken to the hospital with fire-related injuries. Some were hurt when they jumped from the second floor of the building to escape, TVF&R said, while others were suffering from smoke inhalation or burns. A firefighter was treated for heat exhaustion.
Multiple units inside of the apartment building were heavily damaged, resulting in the displacement of about two dozen people. TVF&R said it was working with the sheriff's office and apartment managers to arrange shelter for the residents.
Investigators from both the fire agency and sheriff's office are still working to determine the cause of the fire.